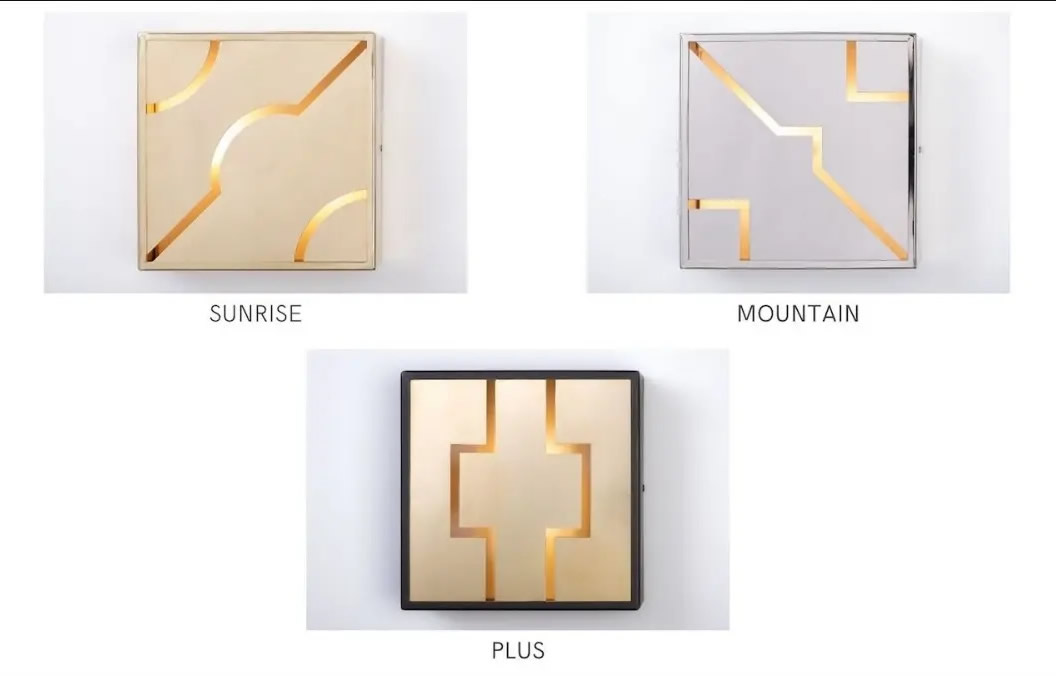 New Illuminations: Designer Jen Dallas Debuts Lighting Collection
Designer Jen Dallas was inspired to create her first lighting collection as a way of elevating home interiors. "I developed this collection of sconces as a system of refined, modular pieces that double as both a source of light and also as a source of joy, because each one is a work of art," says the designer.
Scale was a major factor in what led Dallas to create the collection, which is comprised of elegant square or rectangular box-sconces measuring approximately 10 inches square to 7 x 14 inches, sawed from sheet brass in three geometric patterns: Plus, Mountain, and Sunrise. To create each modern/classic pattern, the shaped pieces are fitted into a frame made of copper, polished nickel, brass in a choice of satin or high shine, oil-rubbed bronze, or black or white powder-coated steel, among other finishes. Spaces between the pieced elements allow for the illumination. Observing that most commercially available lighting systems are oversized, she says. "Large lighting fixtures don't provide the intimacy that I want to create," she explains. "My Puzzle sconces emit soft, indirect illumination that's soothing and welcoming, exactly what we all want when we cross the threshold into our home."
Dallas' partner in the development of the collection is prestigious Chameleon Fine Lighting, chosen for their ability to fabricate superb fixtures based on her original ideas, and match her insistence upon luxurious quality. For instance, Chameleon's hand-applied patinas are triple the thickness of industry standard plating, making the finishes exceptionally lustrous, tarnish-proof, and long-lasting. Pricing for sconces begins at $2,850, depending upon finish. Dallas literally sketched out her initial design concept on a cocktail napkin. "I also get a lot of really great ideas in the shower," says the designer. "I really appreciate the interpretive ability of the Chameleon team to hear an idea, then make it tangible."
She cites Art Deco as a favorite influence, and the three patterns immediately summon the sleek contours and Airstream, machine-age design circa 1920. The clean angular shapes might also suggest the glyphs of the American Southwest, or the block-print textiles, patchwork quilt, and would also complement a range of settings from a modern interior to a more traditional environment, making the Puzzle collection an unusually versatile element in the interior equation. Dallas says, "I offer clients this lighting collection as an invitation to be creative and make their space truly personal," adding that the three patterns and their myriad finishing options may be collaged for an array of pleasing, eclectic effects.
https://www.instagram.com/jendallas/